********TO BOOK AN APPOINTMENT ONLINE BOOK CLICK HERE********
Westgrove Clinic is a Family Medicine Clinic located in Spruce Grove. We are a group of family physicians focused on the delivery of quality, timely health care to our patients. We are proud to work as a team with Nurse Practioners, Licensed Practical Nurses, pharmacists, mental health therapists, our clinic staff and other health professionals to give our patients the best possible health care.
Westgrove clinic is a teaching clinic and you may see a resident or medical student prior to seeing your physician. Part of physician training involves clinical experience with actual patients and we appreciate you giving them this opportunity.
Please note that we do not take walk-in appointments.
News:
- Westgrove Clinic is very proud to announce that we will be open in the evening Monday through Thursday starting in January 2012.
Location:
Westgrove Clinic is located on the second floor of the Queen Street Medical Facility in Spruce Grove, Alberta
#201 - 505 Queen Street
Spruce Grove, AB
T7X 2V2
Ph: (780) 962-9888
Fax: (780) 960-5298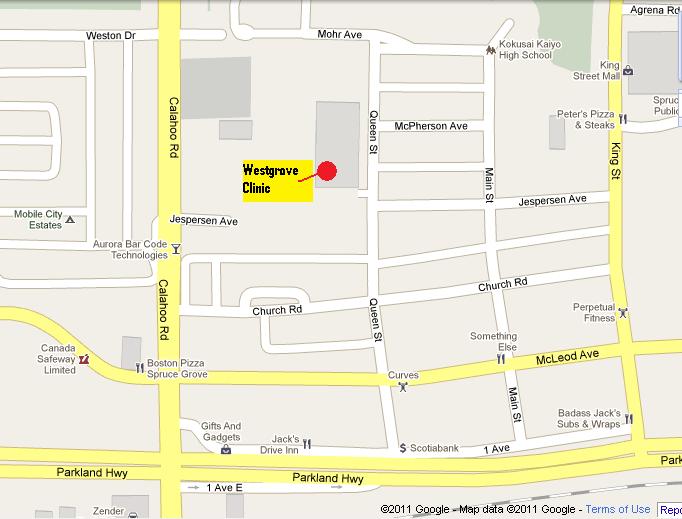 Hours:
Monday to Thursday 8:30 AM to 7:30 PM and Friday 8:30 AM to 4:30 PM

Starting in January 2012 we will be open evenings Monday through Thursday
Saturday Clinic is held weekly and shifts are covered on a rotational basis by all clinic physicians. The first hour of appointments are prebooked and the remainder until 12:00 are same day access. These appointments must be made through the receptionist.
Website Links: